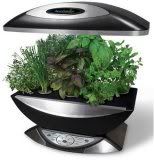 I personally was born with a black thumb of death. The second I try to grow a healthy plant, it falls over and dies. Still, I have found that growing herbs is a great way to save money and have more delicious meals. Even those of you like me that cannot grow plants for the life of them can usually handle herbs. They don't need to fruit, they can miss watering on a regular basis, and the just don't care about you like other plants seem to. I also seem to be doing ok with squash, but we have yet to see if they actually grow into veggies or if I just have weird looking leafy things in my dirt for the rest of the summer.
That being said, it's debatable on whether growing a garden these days can actually save you money. Even my precious squash are only 69 cents a pound at Henry's right now. Herbs are the only thing that seem to be very expensive to buy fresh and cheap to grow. For the price of one box of fresh herbs, you can buy a small herb plant at Rite Aid right now, and grow your own, and have them when you need them. I have parsley, thyme, dill, basil and mint. They all love me. Dill likes less water and mint likes more…there's the secret to growing herbs.

For those of you who aren't cursed with a thumb of death, here's a few links to help you decide what to bother planting in your garden this summer.
Has gardening worked for you? Share your success or failure stores here!
If you enjoyed this post, get free updates via email or RSS!
Bookmark and Share
Close
Bookmark and Share This Page
Copy HTML:
If you like this then please subscribe to the
RSS Feed
.