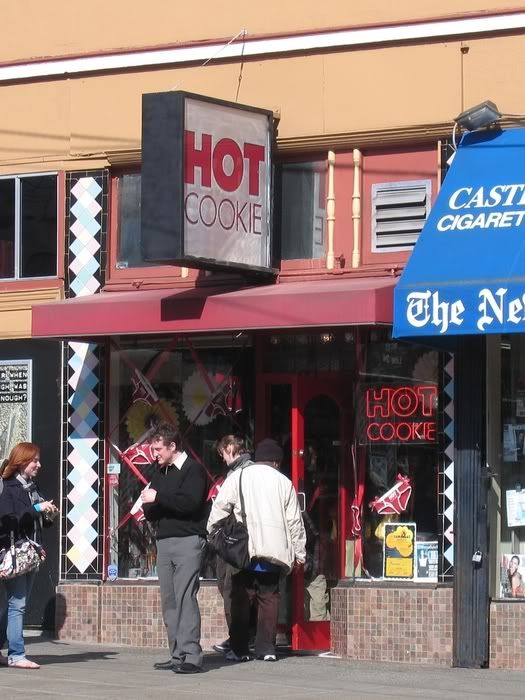 Looking for some of the best cookies on earth? Happen to be around San Francisco? Have no fear, Hot Cookie is here!
Business: Hot Cookie
407 Castro St.
San Francisco, CA 94114
(415) 621-2350
Price: $ (Each $ represents a $5 increment)
Rating: 5 out of 5
You can smell the sweets from down the street and with flavors like cranberry, white-chocolate oatmeal and just good ol' chocolate chip, whatever you're in the mood for, Hot Cookie carries it. And they carry the best. And just in case you want a truly "Castro" experience, they have large macaroon cookies dipped in chocolate. -in the shape of penises. Personally, I recommend the chocolate chip peanut butter.
The cookies may seem a little expensive for just a cookie, but if you get the day old cookies, it's about 3 for the price of one fresh one. The day old's are slightly less moist and definitely don't feel hot-out-of-the-oven like the brand new ones, but damn are they good.
Stop by this cute little cookie shack just once and you'll see why so many San Franciscians can't get enough of their Hot Cookies. And don't worry, the do sell milk.
Bookmark and Share
Close
Bookmark and Share This Page
Copy HTML:
If you like this then please subscribe to the
RSS Feed
.